You're invited to join us to hear from author Catherine Campbell.
Who's Catherine?
Catherine Campbell is a popular author and speaker from Northern Ireland. Having cared for two profoundly disabled daughters for a period of twenty years, she is often asked to speak on the subject of suffering with hope.
To date Catherine has spoken at numerous Ladies' meetings/events, including day conferences, breakfasts and weekends, in Ireland, the UK, Germany, Thailand, Austria, Turkey and Canada. She has made the occasional foray into mixed meetings, but her love is ministering to women, encouraging them to develop a closer, more passionate walk with Jesus.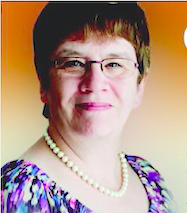 You can find out more about Catherine and her books at her website: http://catherine-campbell.com
When?
Join us on Friday October 16th for an evening with Catherine at NewLife Anglican : Oran Park where we'll hear her opening up the material in her book – "When We Can't – God Can".
Cost?
Free. Supper will be provided. If you'd like to let us know on our Facebook event that you're coming that would help with our catering. Thanks!
We look forward to seeing you at what we hope will be a night of encouragement in the journey of following Jesus in a less than perfect world.